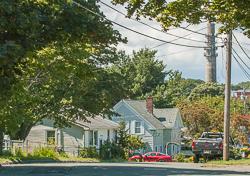 We are concerned about the future of our grandchildren. Their future depends on our rapid action to replace burning fossil fuels to produce energy with renewable energy sources. This goal is essential to mitigate climate disaster and must be met by everyone working together, and especially by the government. Therefore we are advocates for a responsive government that serves the public—but people that we trust to do the people's business are not acting in our interests.
A group of municipal light plants (MLPs) that we rely on to provide reliable, affordable electricity have created a monster, the Peabody peaker, a/k/a Project 2015A. This is a project that is very likely to fail, and we ratepayers will be responsible to bail them out; and no, they didn't ask us if we were willing to guarantee their mistakes. The average electric customer in Peabody could be hit with a bill for $3,000 when the plant is shut down early, as is very likely.
The alleged purpose of the peaker plant is to provide electricity during times of peak demand, such as during hours of heavy use in very hot or cold weather. Each municipal light plant is obligated to provide an assigned share of this so-called "capacity" in order to assure that the electrical system will not fail.
We see no justification for building the plant; none of the reasons advanced in support of it hold water. Why is it being built? Why isn't it being stopped?
Working in concert with an electric wholesale company, 14 municipalities are moving ahead to build a gas and oil fired electric generator in Peabody. However, Chicopee and Holyoke are trying to get out, and another, Hull, is considering getting out.
Breathe Clean North Shore represents residents of Peabody who have organized against the plant. They have been supported by citizens across the Commonwealth, and joined by Senator Joan Lovely and Representative Sally Kerans as they seek a halt to construction and a review of the impacts on health and the environment. The peaker plant would be located in an environmental justice community, where people already live with challenges such as pollution; and who may be poor, non-English speakers, or members of a minority.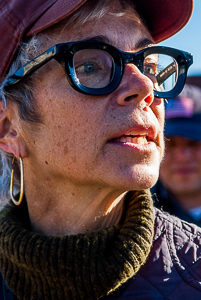 Sarah Dooling, the Executive Director of Mass Climate Action Network (MCAN), wants to protect us from the resulting disease, damage to the environment, increased climate warming, and the chance that it will end up costing the municipal light plants and their customers millions of dollars.
In an online press conference on March 10, 2022, Dooling introduced two new reports commissioned by MCAN that detail the risks that affect the plant. There is good evidence that other technologies can better meet the need for electricity: with less risk and at less cost. Not only does the plant fail as a good investment risk, but the so-called externalities, the social costs of burning fossil fuels, that we estimate at $5millon a year, are too high to be acceptable. Together, these reports may well justify participating municipal light plants to get out of their contracts.
Together, the report of Strategen Consulting, prepared for the Clean Energy Group, and the policy brief of the Applied Economics Clinic, demonstrate that there is no valid justification for building this plant.
According to Strategen Consulting,
"cleaner alternatives include energy from renewables, energy storage technologies, and the market."
Strategen's report, Assessment of Potential Alternatives for Project 2015A in Peabody, Massachusetts, introduced by Maria Roumpani, details how each of the alternative options offers a better solution than the use of fossil fuel to generate electricity.
Bryndis Woods of the Applied Economics Clinic cited their report, Risks for Peabody peaker owners go beyond capacity prices, when she discussed
"[ ...how the Peabody peaker exposes the MLPs (and their customers) to many risks] including gas fuel prices, existing Massachusetts emission reductions, and Environmental Justice (EJ) community protection laws, future emission limits for the Commonwealth's electric sector, and the potential for stronger EJ laws, new federal legislation, and/or regulatory changes that put fossil fuel-fired assets at a disadvantage."
The use of battery storage as a clean and reliable alternative for peak power is already established by many examples, including to replace or as an alternative to fossil fuel generators.
The company that is managing the Peabody peaker plant on behalf of 14 municipal light plants is the Massachusetts Wholesale Electric Company (MMWEC). They have asserted that a battery storage facility would be less profitable than the planned 60 MW fossil generator. They had suggested that "regulations" were the reason that a battery backup was less feasible. However, Maria Roumpani confirmed that the decision to use fossil generation resulted from MMWECs failure to consider alternatives and their lack of transparency which prevented the public from questioning their decision.
But at the same time, they had entered into a partnership to create a larger, 100MW battery storage facility in Westboro.
This discrepancy between MMWEC's seeing "good" batteries in Westboro and "bad" batteries in Peabody is hard to fathom.
So not only have MMWEC and the participating light plants failed to offer a transparent and comprehensive discussion with the ratepayers, they have not been forthcoming about the viability of the technical alternatives, including battery storage.
The proponents of the Peabody peaker plant have abused our trust.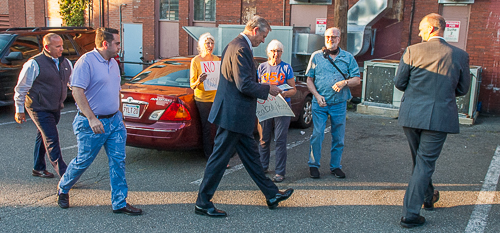 The agencies that should be our watchdogs are lying silent. ISO-NE is favoring fossil fuel electricity despite the advantages of renewables and battery storage. And the Federal Electrical Regulatory Commission, while chastising ISO-NE, nevertheless allows them to make bad decisions. We hold that Governor Baker and Secretary Theoharides should halt work on the plant and do a comprehensive "MEPA" review of the health impacts by the Massachusetts Environmental Policy Act (MEPA) Office, that is part of the Executive Office of Energy and Environmental Affairs (EEA).  Furthermore, the legislature should hold oversight hearings to find out why the Department of Public Utilities had not implemented the requirements of the Climate Roadmap law when reviewing the peaker plant.
Sarah Dooling said,
"There is a moral justification for review of the Peaker project; the pollution and public health threat must be addressed by the state."
Breathe Clean North Shore is continuing to demand transparency and accountability in Peabody, especially focused on the Peabody Municipal Light Plant, the largest partner in the peaker project.
Several members of 350 Massachusetts are escalating the advocacy campaign with a hunger strike starting on March 15. The Climate Courage strikers will demonstrate in several of the municipalities participating in the peaker project. See: Fasting for a Future
Dooling noted that there is industry momentum to transition from polluting peaker plants to battery and other alternatives. In Western Mass, environmental advocates are working with management to transition away from fossil fuel. Dooling said,
"What a disgrace it is to invest in facilities that pollute environmental justice communities. It is up to the Baker administration to intervene. The review process of the Department of Public Utilities was flawed, the hearing officer would not allow any ratepayer or entity, such as MCAN, to cross-examine MMWEC. No one protected the ratepayers."
---
Resources
Woods, Bryndis; Chirag Lala, and Joshua Castigliego, Risks for Peabody peaker owners go beyond capacity prices. Applied Economics Clinic, Policy Brief, February 9, 2022
Roumpani, Maria and Eliasid Animas, Addendum—Assessment of Potential Alternatives for Project 2015A in Peabody, Massachusetts, Strategen Consulting and Clean Energy Group, February, 2022
Recording of the press conference
---
Groups and organizations
MCAN's role as a facilitator of municipal-level action is unique among Massachusetts environmental groups. We empower our local chapters by enhancing communication, promoting town-level projects that improve communities, decreasing climate change-causing pollution, and reducing development time for those projects. MCAN speaks on behalf of all chapters to improve Massachusetts energy and climate policies and programs.
Based in Arlington, Massachusetts, the Applied Economics Clinic (AEC) is a mission-based non-profit consulting group that offers expert services in the areas of energy, environment, consumer protection, and equity from seasoned professionals while providing on-the-job training to the next generation of technical experts.
Strategen is laser-focused on one thing: activating a clean energy future that creates thriving businesses, economies and people. Our mission is to empower and inspire global corporations, utilities and public sector leaders to accelerate grid modernization, decarbonize the planet and improve quality of life around the world.
Strategen achieves its mission by working tirelessly for our broad array of clients to give them executable strategies to decarbonize the electric power sector. Through our depth and breadth of technical, regulatory, product and organizational expertise in energy markets, as well as our focus on real-time industry trends, we empower clients with the insight they need to tackle critical issues and develop responsible and leading-edge strategies. Strategen works with global Fortune 500 corporations, utilities, governments, project developers and associations seeking to evaluate and implement next generation grid and clean energy technologies.
To accelerate an equitable and inclusive transition to a resilient, sustainable, clean energy future. A clean energy system that strengthens all communities by providing sustainable and affordable power, establishing transparent and inclusive decision-making processes, and building wealth and resilience through equitable access to and ownership of energy technologies that do not harm the health and well-being of individuals, communities, or the global community.
Clean Energy Group (CEG) works at the forefront of clean energy innovation to enable a just energy transition to address the urgency of the climate crisis.
We fill a critical resource gap by advancing new energy initiatives and serving as a trusted source of technical expertise and independent analysis in support of communities, nonprofit advocates, and government leaders working on the frontlines of climate change and the clean energy transition. We collaborate with partners across the private, public, and nonprofit sectors to accelerate the equitable deployment of clean energy technologies and the development of inclusive clean energy programs, policies, and finance tools.
The Federal Energy Regulatory Commission, or FERC, is an independent agency that regulates the interstate transmission of electricity, natural gas, and oil. FERC also reviews proposals to build liquefied natural gas (LNG) terminals and interstate natural gas pipelines as well as licensing hydropower projects. The Energy Policy Act of 2005 gave FERC additional responsibilities.
The stated mission of the Independent System Operator-New England—is to protect the health of New England's economy and the well-being of its people by ensuring the constant availability of electricity, today and for future generations. ISO-NE ensures the day-to-day reliable operation of New England's bulk power generation and transmission system, oversees the administration of the region's wholesale electricity markets, and manages the regional planning processes. ISO-NE was created in 1997 by the Federal Energy Regulatory Commission.
Breathe Clean North Shore—We are a group of citizens who object to the planned dirty energy peaker plant in Peabody and seek to engage our community to move forward in a way that spotlights the environment, tackles the urgency of climate change and champions sustainability. BCNS on Facebook
Our mission is to work side-by-side with communities, empowering you with the skills and resources needed to prevent or clean up pollution at the local level.
Since 1987, Community Action Works has worked with more than 1,000 communities and trained more than 20,000 individuals to confront polluters and seed solutions across the Northeast.
Mireille Beijani, Energy Justice Director and Community Organizer of Community Action Works, has worked closely with Breathe Clean North Shore.
 
---
Contact
coordinator {at} cleanpowercoalition.org
Jerry Halberstadt on twitter: @coordinatingnow