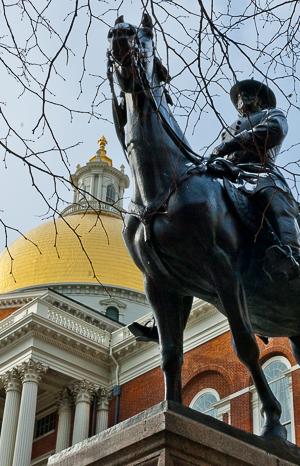 July 27, 2021
Honorable Governor Charlie Baker, Massachusetts State House, 24 Beacon St., Office of the Governor, Room 280, Boston, MA 02133
Kathleen A. Theoharides, Secretary, Executive Office of Energy and Environmental Affairs, 100 Cambridge Street, Suite 900, Boston, MA 02114
Margret R. Cooke, Acting Commissioner, Department of Public Health, 250 Washington St, Boston, MA 02108
Greetings,
As the administrators of our laws, you have an obligation to take action now to see to their enforcement in the case of Project 2015A, specifically including implementing the Next Generation Roadmap (Acts 2021 Chapter 8) to reduce reliance on fossil fuels and transition to renewables.
We ask that you immediately intervene in the hearings and procedures of the Department of Public Utilities regarding the pending request of the Massachusetts Municipal Wholesale Electric Company (MMWEC). They seek permission to borrow $85 million to build 2015A, a 55 MW peak capacity generator using fossil fuel to be located at the Waters River plant in Peabody. Capacity is the amount of electrical energy available on the order of ISO-NE, the organization that coordinates power in New England. The DPU hearing officer has failed to open new hearings to consider all the issues required to be considered under Acts 2021, Chapter 8. These include: reliability, affordability, equity, and reductions in greenhouse gas emissions, none of which have been considered or responded to adequately.
According to the office of Senator Michael Barrett, "the [Next Generation Roadmap, (Acts 2021 Chapter 8)] directs the Department of Public Utilities (DPU), the regulator of the state's electric and natural gas utilities, to balance priorities going forward: system safety, system security, reliability, affordability, equity, and, significantly, reductions in greenhouse gas emissions."
On July 19, 2021, Mass Climate Action Network (MCAN) invoked this law as a reason for the Department of Public Utilities (DPU) to consider new evidence. Under consideration is the pending request of the Massachusetts Municipal Wholesale Electric Company (MMWEC) for permission to borrow $85 million.
"MCAN respectfully reiterates its request that the Department allow its Petition to Intervene so that it may participate in continued hearings and present evidence that the Project is not a viable choice compared to alternatives and that the Project is inconsistent with the Commonwealth's goals as set forth in the recently passed Roadmap. Without intervention, impacted stakeholders, including residents in designated Environmental Justice Communities in Peabody, will not have any meaningful voice in this matter even though the consequences and the harm from this Project will last for decades."—Richard A Kanoff, of Prince Lobel Tye LLP, on behalf of MCAN.
On July 20, 2021 the DPU hearing officer, Lauren Morris, rejected holding an additional hearing to address any of those issues, thus blithely ignoring the law, writing that "The topics which MCAN wishes to investigate are outside the scope of this proceeding."
Reliability and affordability are not assured under the present MMWEC plan. Because of the increasing availability of lower-cost renewable resources, including offshore wind and hydro, along with expected upgrades to electric transmission infrastructure, the need for fossil fuel generation to meet capacity will be significantly reduced. The Peabody peaker (2015A) will likely become a stranded asset within 5-10 years, and the burden of loan repayment will fall heavily on ratepayers who will also have to pay for electric services. It is a very risky investment and should not be funded.
Equity has not been seriously evaluated. The proposed Waters River plant site is in the midst of environmental justice communities that are already heavily burdened, and it is adjacent to wetlands. The Peabody Health Department, elected leaders in Danvers and Peabody, citizens, and advocates seek an independent, comprehensive review of public health and environmental issues.
MMWEC argues that the new plant will be more efficient and thus reduce greenhouse gases. While it may be less polluting than older plants, it would actually contribute to public health, environmental, and climate burdens. The plant is not essential to peak capacity needs, according to an MMWEC official. There are alternatives for municipal light plants to meet their capacity obligations. They can purchase capacity. Local efforts can reduce power and capacity needs while increasing reliability. Battery peak solutions are less costly and more reliable than gas turbines, and gas turbines are no better at providing essential power during long winter storm emergencies.
The many concerns of citizens and experts have not received a hearing, MMWEC has not provided any verifiable justifications, and DPU has failed to act according to the mandates of the Next Generation Roadmap (Acts 2021 Chapter 8). Therefore, we urge you to immediately intervene to ensure that the law is followed, and most important, to assure a better future for our grandchildren.
Thank you for your consideration,
Sincerely,
Jerry Halberstadt
Peabody, Clean Power Coalition; Breathe Clean North Shore
---
Co-signers are listed by name, location, organizational affiliation; some organizations are listed by their name.
Susan Smoller, Peabody, Breathe Clean North Shore
Ron Smoller, Peabody, Breathe Clean North Shore
Theodora Kalfopoulos, Peabody, Breathe-Clean-North-Shore
Karen & Warren Tatro, Peabody, Breathe-Clean-North-Shore
Sustainable Marblehead
HealthLink (HealthLinkMA.org)
C. Catherine LeBlanc, Cambridge, MA Chapter Sierra Club Toxins Team
Rob Moir, PhD, Cambridge MA, Ocean River Institute
Amelia Young, Watertown, Extinction Rebellion Boston
Susan Lemont, Boston, Extinction Rebellion Boston
Gretchen Schultz-Ellison, Shrewsbury, Emergency Everywhere Shrewsbury
Rachael Missall, Shrewsbury, Emergency Everywhere Shrewsbury
Diane Jones, Shrewsbury, Emergency Everywhere Shrewsbury
Arnold Epstein, Stow, leadership team member, Elders Climate Action Massachusetts Chapter
Rosemary Wessel, Cummington, Program Director, No Fracked Gas in Mass
Jane Winn, Pittsfield, Executive Director, Berkshire Environmental Action Team
Mary Jane Else, South Hadley
Pamela Goodwin, Greenfield, MA, Concerned citizen of the Commonwealth, MASS Political Cooperative & Franklin County Continuing the Political Revolution (FCCPR)
Adrienne Allen MD, MPH, Climate Code Blue
Sue Rorke, Medway
Michael Siegel, MD, MPH, Professor, Department of Community Health Sciences, Boston University School of Public Health
Tristan Brown, Peabody
Lori Bermani, Salem
Mary Usovicz, Salem
Denis Mahoney, Holden
Maiyim Baron, Brookline, Leadership Team, Elders Climate Action MA
Susanne M. Grady, Whitinsville, Mass Political Cooperative
---
Statements
"This is the first test of our new climate law, Next Generation Roadmap (Acts 2021 Chapter 8), and we expect that the DPU will be held to the new provisions. Either the law works, or it doesn't."—Representative Sally P. Kerans, 13th Essex District, Danvers, Peabody, Middleton
Even new peaker plants are not good neighbors, according to Medway resident Sue Rorke. "Medway has a Peaker plant.  The town Select Board decided there was nothing they could do to stop it, and negotiated a host agreement.  The presentations of safety, specifically emissions, were inconclusive at best. Both the old peaker and the new peaker run frequently, and are very noisy.  We were assured they were not going to run much, but apparently that was not true"—Sue Rorke, Medway
"Something is fishy by the Waters River in Peabody. Plans to build a fossil fuel-fired 55MW peak capacity generator make no sense when a battery powered facility on Monterey Bay CA led to the closure of nearby peak capacity generators powered by fossil fuels. You'd think MMWEC, with some of the highest percentages of renewable energy, would know better and not break the law of the Next Generation Roadmap."—Rob Moir, PhD, Ocean River Institute
---
---
Additional co-signers are welcome and will be added to this list.
To sign up, write to petition@cleanpowercoalition.org with the following personal identification information: your name, location (city, state, country); your relevant organizational affiliation; organizations are listed as supporters when authorized. Your email will not be published.