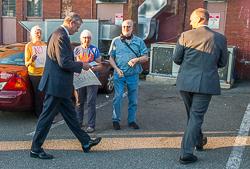 Breathe Clean North Shore demonstrated early on the evening of Monday, September 13, 2021 against the Peabody peaker plant during a political gathering attended by Governor Charlie Baker at the Brothers Restaurant on Main Street in downtown Peabody. Carrying signs and distributing flyers, demonstrators staked out both the front and rear entrances, and managed to get the Governor to accept a flyer as he rushed past them.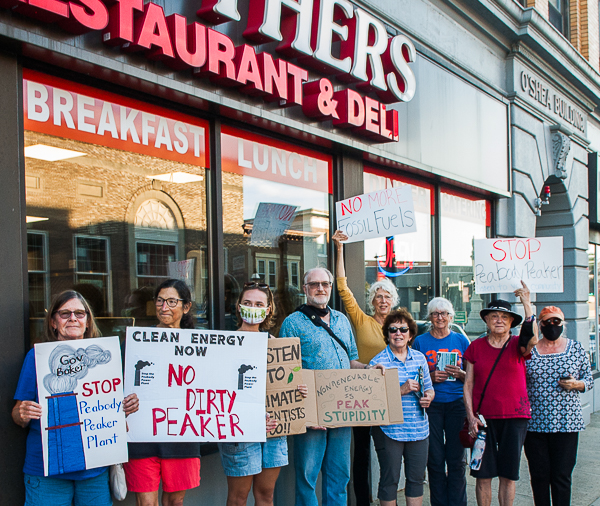 While Breathe Clean demonstrators waited to greet Governor Baker, his advance protective detail urged them to be polite to the Governor, and seemed apprehensive because of past confrontations by other groups.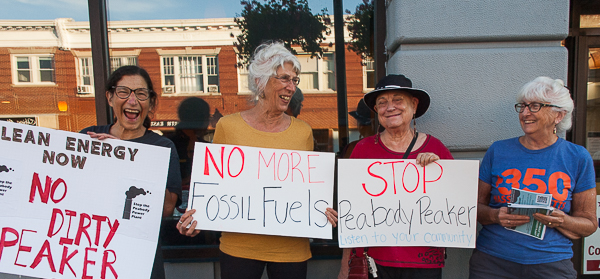 While the demonstrators are determined in their advocacy for renewable energy to replace fossil fuels, and determined to stop the Peabody peaker from advancing, they are clearly better qualified to pose fierce, unrelenting political opposition rather than a physical confrontation. Of the 10 members of Breathe Clean, 8 were women of enhanced wisdom. The Governor might have gotten value from a couple of minutes listening to their concerns, instead of rushing past to meet with local politicians.
Judith Black, one of the demonstrators said,
"Some of the people going in to meet with Governor Baker avoided us, they looked down or put up a 'stop' hand when we tried to hand them a flyer about this hazardous plant being built in their back yard."

"Today they may live in fear of new ideas, but tomorrow, they will be breathing in particulate matter, paying for 30 years for a stranded asset, and watching their town flood, if  we don't stop this abomination. So, get used to seeing us out there!"
---
Susan Smoller is the ace petititon sign-up expert of the Breathe Clean North Shore group. At the Market Basket, when a shopper rolls their shopping cart out the door, Susan is right there, asking to just talk for a moment. She answers questions about the peaker plant, since most people who live in sight of the future site have no idea of the project. She points out the old smokestack which marks the future site of the fossil fuel plant. In a very short time, most people sign the petition that demands a halt to the plant.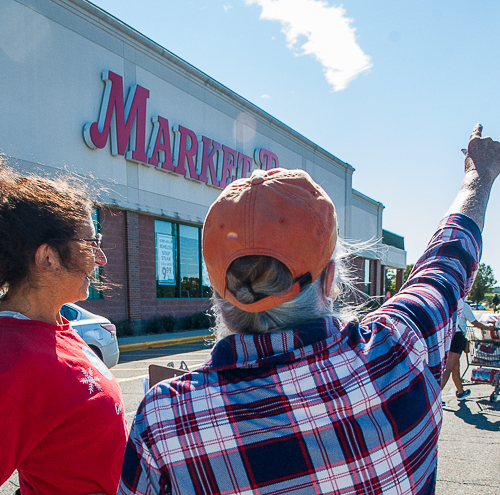 Smoller continues to carry a handful of flyers and her clipboard with a petition form. If you haven't yet met her, you can help her by signing the petition to Stop the Peaker . It's not too late to save your health, the nearby wetlands, and the world!