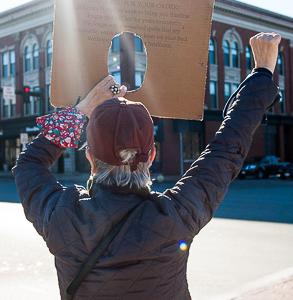 Story, Judith Black & Photography, Jerry Halberstadt
---
On Saturday, November 12, 2021, advocates for clean energy from many towns joined Peabody residents in the "Peabody Peaker Push" to protest against the proposed peaker plant and to walk through neighborhoods near the plant location to inform people about the project. Participants collected 350 signatures towards  1,250 signatures in a petition that were delivered on the following Wednesday to Secretary Kathleen A. Theoharides, Executive Office of Energy and Environmental Affairs. A morning standout at Peabody Square was followed after lunch by a standout at the Waters River Bridge.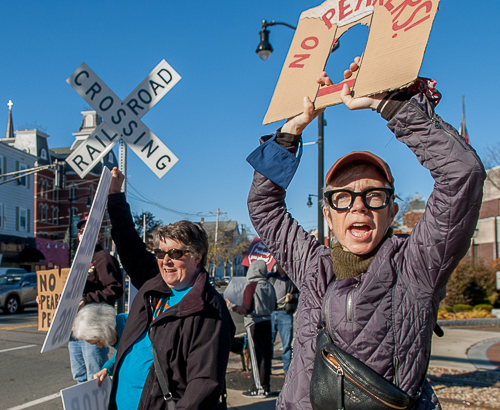 Elected legislators, candidates, and leaders of the environmental movement attended, including Senator Joan B. Lovely and Representative Sally Kerens.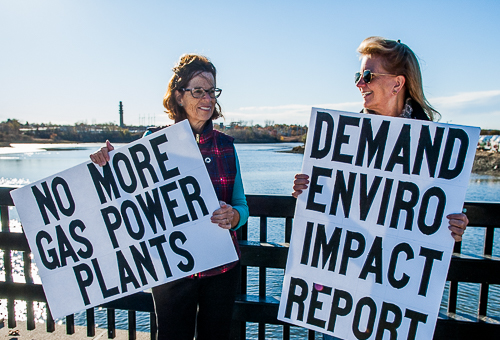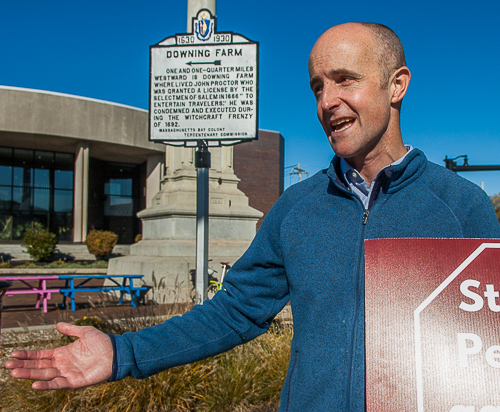 Former state senator, Ben Downing, attended to support the demonstrators.  Downing said,
"I was proud to join climate activists from across the state in Peabody on Saturday. Time and time again, we've watched our leaders green-light dangerous fossil fuel projects in communities that already bear the brunt of centuries of environmental degradation. Instead of defaulting to new fossil fuel infrastructure, municipal and state leaders should have sought alternatives from impacted community members and third party providers. Under a Downing Administration, our energy need will be met through a targeted combination of battery storage, solar, and demand response."
According to Downing's campaign staff,
"After serving for five terms as a state senator representing the Berkshires and surrounding areas, Ben began working at Nexamp, a veteran-founded solar and battery storage company. As Vice President of New Market Development, part of his role involved building solar projects in other states. He saw that other states were responding to the toughest issues of our time with a sense of urgency that many of our leaders on Beacon Hill didn't have—and so he left Nexamp in February so that he could dedicate his time to running a community-driven campaign for governor."
Many of the participants, like Nathan Phillips, are well-known, effective leaders in the fight for sustainable, clean, renewable energy.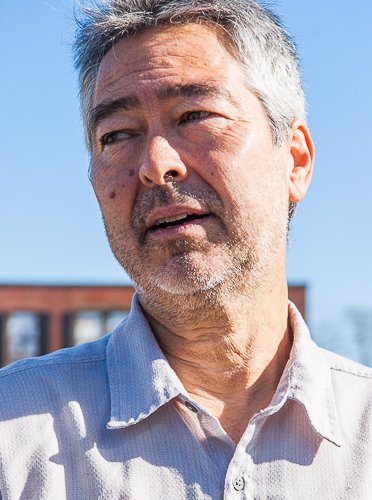 Nathan Phillips writes,
"Breathe Clean North Shore residents know the climate and pollution science just as well as our elected and appointed officials in Massachusetts do; but unlike the Baker administration, they are *acting* on the science which tells us unequivocally that we can no longer build any new fossil fuel infrastructure. But the community is not even demanding that the Baker administration accept and publicly acknowledge this fact; they are simply asking for the due process they've been denied: for a proper Environmental Impact Report, and a Community Health Impact Assessment.  Surely any community, let alone Environmental Justice communities designated by this very same administration, deserve nothing less."
---
The signature drive takes organization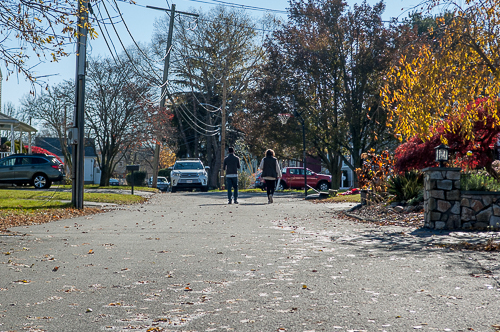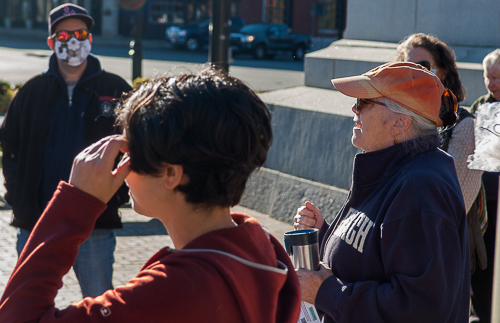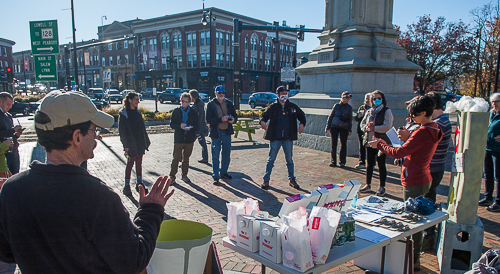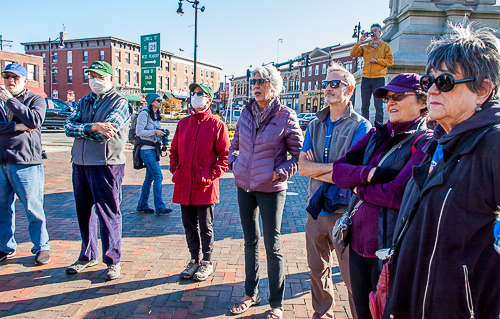 Residents of the Danversport area that had been through the devastation caused by an industrial plant explosion several years ago, reacted strongly against the idea of the new generator plant which would create toxic pollution. Similar responses were noted in other neighborhoods and at the Market Basket store in Danvers, where shoppers stopped to sign the petition.
On learning about the plant, to be located in the existing Waters River Station of the Peabody Municipal Light Plant, people living within sight of an old smokestack adjacent to the plant, were clearly angry that the project had advanced without transparency or the chance for  them to learn about it and form an opinion. As soon as they hear about the plans, they are angry and incredulous.
"They are doing what? A new gas and oil generator when we are faced with a climate crisis? Don't we have new laws that should require studies of the health, environmental, and climate impacts of burning gas?"
Why have we allowed this plant to go forward?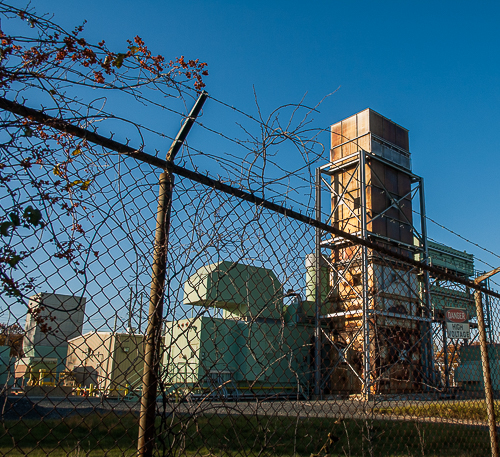 Because we never knew about it! When people learn about the plant, they are angry. We know the plant will harm us. We know that fossil fuels are the past, renewable energy is the future, building a fossil plant is reckless. That's why we show people the facts and that we have other choices for new "Pride in Peabody."
What happens when we tell them about the plant and the harm it will bring? They sign the petition.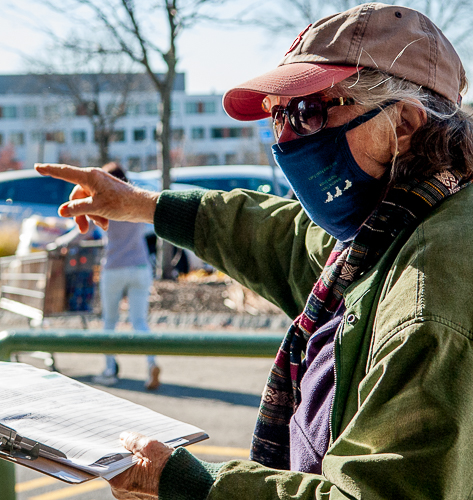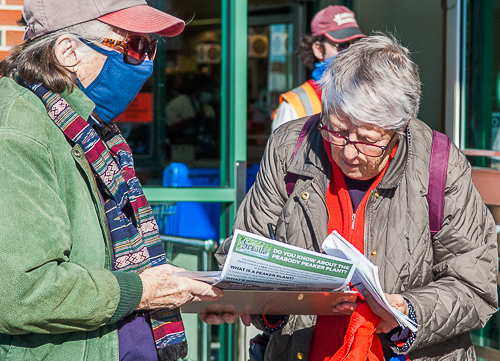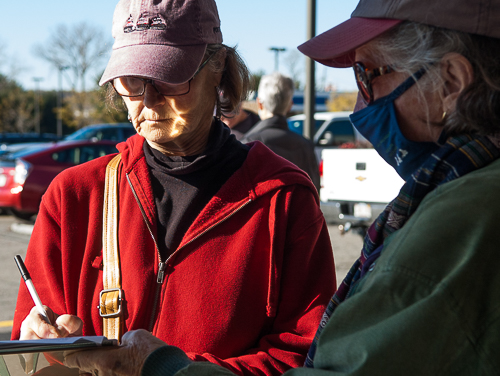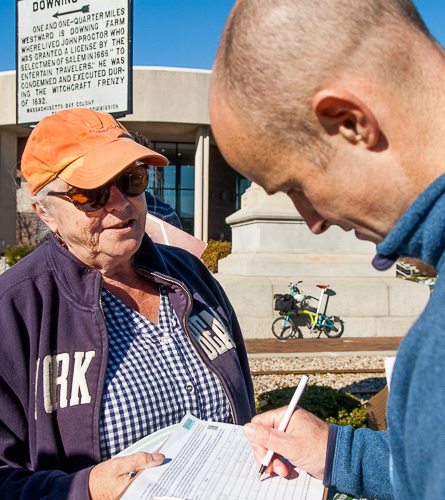 ---
Peaker plant makes no sense
We don't need a new fossil fuel Peaker. It will harm the health of residents of Peabody, Danvers, Salem, and Marblehead. It will pollute the environment, including the wetlands of the adjacent Waters River, and it will hasten the climate crisis. The social costs of burning carbon in the plant can run $5 million a year.  It will soon be unable to compete with offshore wind and other renewables, become a stranded asset that does nothing, and then each Peabody ratepayer will owe about $3,000 to pay off Peabody's 30% share of the $85 million investment—on top of their monthly electricity bills. There are better alternatives.
---
Anatomy of an Action: The Peabody Peaker Push
To pull off an event like this peaker demonstration takes a combination of skills.
planning & organization: Breathe Clean North Shore; Sudi Smoller, Mireille Beijani, Logan Malik, Tracy Valletti
transportation
building a coalition: Sponsoring groups including Berkshire Environmental Action Team (BEAT), Mass Coomunity Action Network (MCAN), Community Action Works, Jewish Climate Action Network MA, Breathe Clean North Shore; and individuals from Peabody, Ipswich, Marblehead, Salem, Danvers, Northborough, Holden representing their local groups. On Wednesday, 17 November, at the event when the petition was delivered to Secretary Theoharides, members of Extinction Rebellion and the Red Rebel Brigade (experts at street theater) joined to support the effort.
recruiting and communication
media relations: Environmental reporter David Abel of the Boston Globe and a Globe photographer covered the standout in Peabody Square, at the courthouse.
materials and supplies: clipboards, flyers, sign-up sheets, pens, face masks, sanitizer
food: donated by Brother's Roast Beef Pizza and Seafood; Giovanni's Roast Beef & Pizza; Land 'N Sea; and baked Greek Koulouria pastry by "Teddi" Kalfopoulos.
having fun, including music
At the hub of the effort was Breathe Clean North Shore, a dedicated group of Peabody residents, including Susan "Sudi" and Ron Smoller, Tracy Valletti (recent candidate for commissioner of the Peabody Municipal Light Plant), and "Teddi" Kalfopoulos.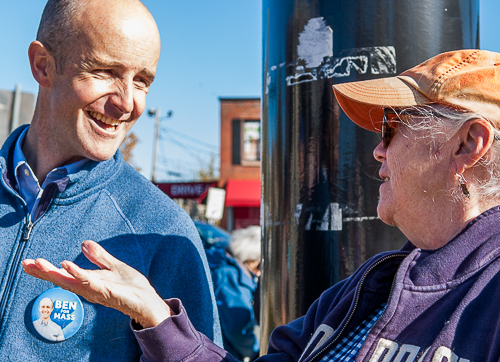 The organizational skills were provided by Mireille Beijani of Community Action Network that is expert of assisting local community organization efforts; Logan Malik  and Sarah Dooling, Executive Director, of Mass Community Action Network, that has the goal of creating a network of local community organizations working for clean power.
The standouts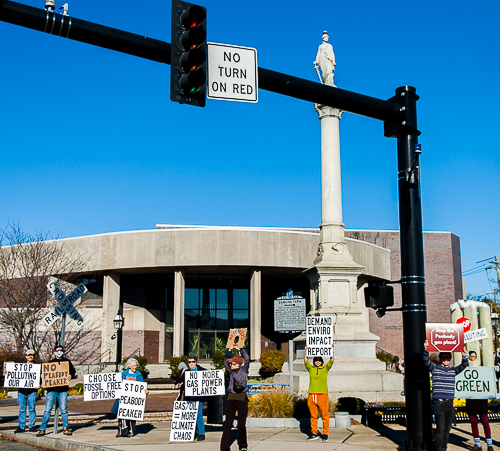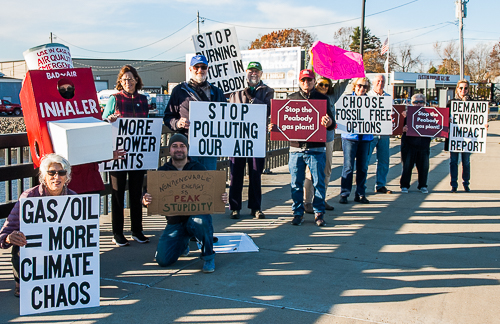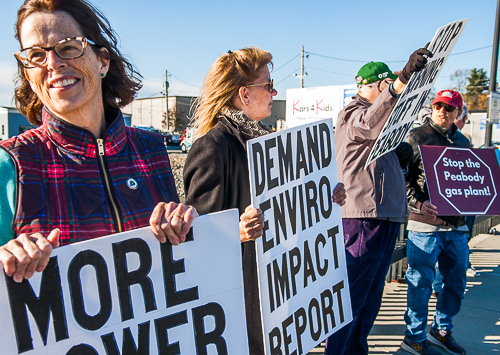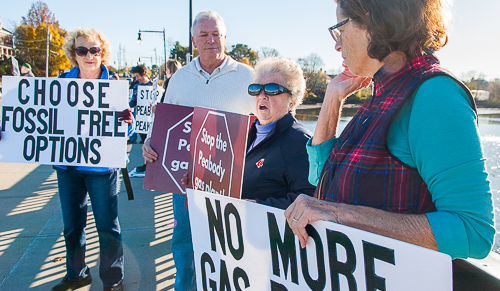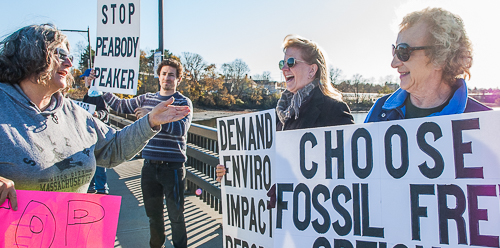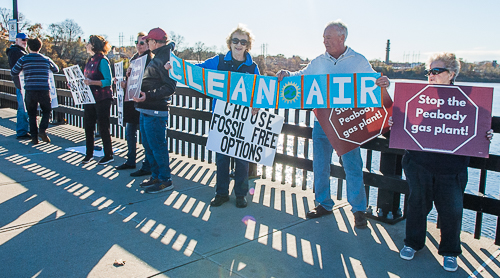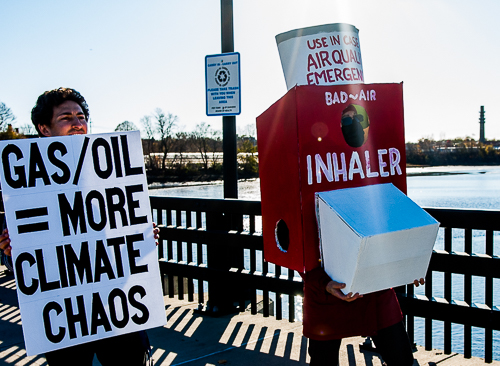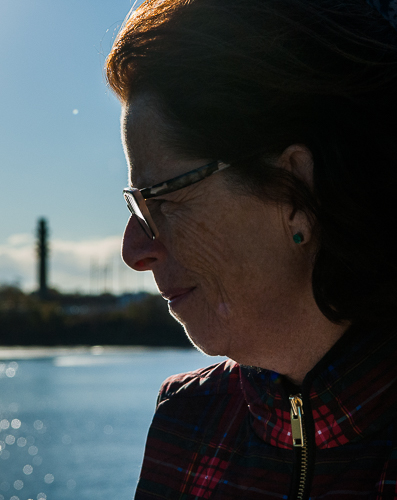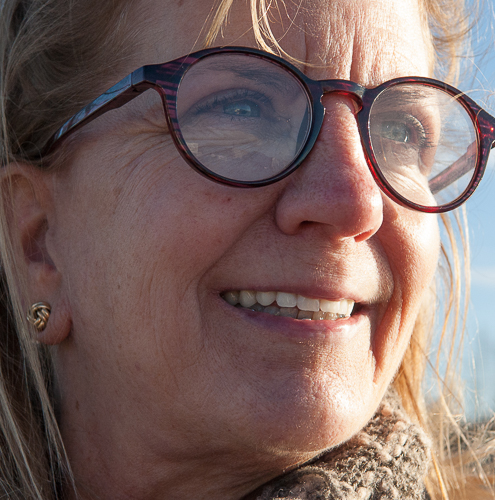 Senator Lovely stated,
"In addition to the impact the proposed peaker plant would have on the environment and climate, we also need to be cautious about the potential ill effects it would have on our health," said Senator Joan B. Lovely (D-Salem). "An environmental and health impact assessment should take place before further action be undertaken."
---
The event was a chance to meet new people, renew friendships, and network. The gathering of people in a common cause generates a unique energy and enthusiasm, an antidote to the many hours of lone and often mundane and routine work that must be done to enable the event to take place. And perhaps most important, a chance to feel as well as demonstrate the strength and determination of being together in a large assembly.
---
The people and the work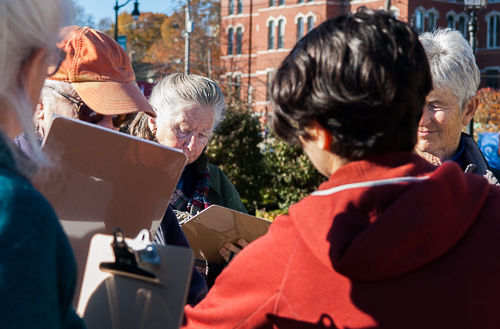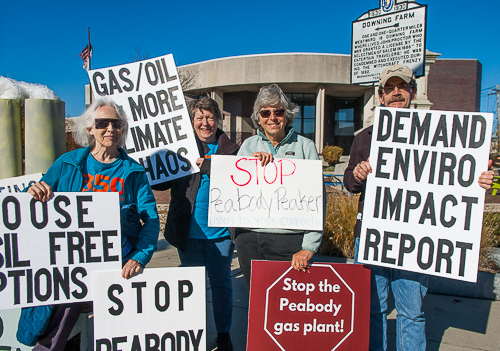 "350 Central Mass is helping to build the movement to fight the global climate crisis starting here in the heart of OUR Commonwealth, Central Massachusetts.  We see that the elimination of fossil fuels, the burning of which is the primary cause of climate change, goes hand in hand with the Environmental Justice movement.  We came from Central Mass to Peabody today because five of the Municipal Light towns that are investing in the Peabody Peaker plant are central Massachusetts towns: Holden, Shrewsbury, Sterling, West Boylston and Boylston.  [We don't think it is right for] the people of Central Massachusetts [to] play a part in further burdening the Peabody/Danvers area with the health impacts of another gas/oil-fired power plant in their communities."—Jane Dye
Petition drive culminates at offices of Secretary Theoharides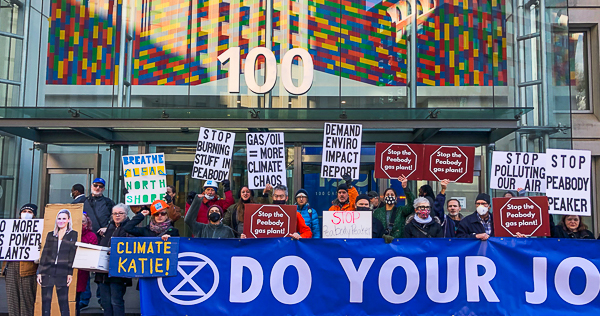 ---
Is this the end?
Not likely. We have only just begun. You are welcome to join us!
A vision for change and sustainability
Our efforts to stop the peaker plant are but the first step on our journey to revitalize our community and demonstrate a new "Pride in Peabody."
The need for peak power can be mitigated by a variety of technologies and social cooperation.
For sustainable community power, we can do more. We can rely on offshore wind. We can reduce our use of  electricity; we can insulate our buildings; we can use heat pumps; we can generate electricity with solar panels on our rooftops; we can avoid using power during peak periods, including using thermal energy storage, and cooperate with the light plant to time our use; we can use batteries to help manage peak demand.
The use of battery storage and the smart grid to enable decentralized sources of energy will not only assure adequate peak power, but likely improve cost and reliability overall.
We have a choice. We can adopt the goal and vision of a Peabody that engages the whole community to create a sustainable energy budget based on renewable sources.  We can help ensure a sustainable future for our grandchildren and for Peabody. We citizens of Peabody must create a partnership to include all of us, the Mayor, the City Council, the Health Department, and the Peabody Municipal Light Plant (PMLP). We can seek funding from Beacon Hill and Washington to create a demonstration program and become a national beacon for sustainable energy. Together we can create a sustainable energy future, a future with lower costs and more reliability.
---
Our grandchildren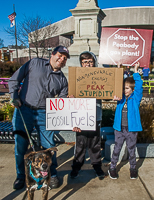 Tristan Brown, a Peabody resident, attended the standout with his two sons and the family dog. Tristan reported on how Hunter felt about the experience.
"Hunter Brown is eight years old. He's generally pretty gloomy about the future due to the environment. He did not want to go hold signs because he thought it was 'useless' and that people 'don't care about the world.' By going, he learned that there are other people who care about this issue and likes the fact that there are other people who care about stopping the peaker plant and want us to stop using fossil fuels. On the whole, however, he's still pretty pessimistic and wants to know why more adults are not involved."
I was very moved by Hunter's situation. I wrote to him,
Hi, Hunter. I admire and respect you for coming to the action. Like you, Hunter, I am worried and concerned, and often feel that too few of us are in the game. But when all those lovely people come from all over to stand together, it is so encouraging to feel that we are part of something larger.

When I see you, I see a peer of my grandchildren. Your generation will pay the price of our failure to act. My activism is motivated by my concern for all the grandchildren, all the Hunters, and all my grandchildren.

It is our responsibility as human adults to care for you and all the grandchildren. Thank you for coming to the standout to remind us of our job. It may seem impossible to win this struggle. We're the people who have already done what is difficult, your dad is one of the many, we who are working on the impossible. We won't stop and we won't give up."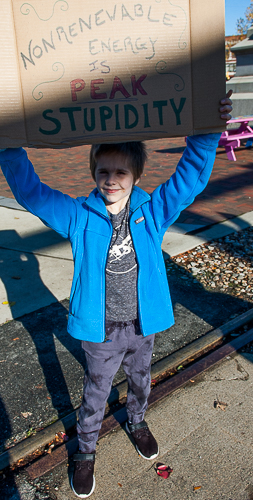 ---