Jerry Halberstadt
The Massachusetts Municipal Wholesale Electric Company (MMWEC) is proposing to build a 55 MW natural gas and oil peaker power plant in Peabody, MA. Will this plant be an environmental, health, and safety threat to people in their homes, a school, and to a nearby dairy farm in Peabody and the Danversport area? Have these issues and the impact on the global climate crisis been evaluated? Have alternatives been considered? We don't know, and the citizens of Peabody and Danvers have a right to know, as does every citizen of the Commonwealth.
People are alarmed, and concerned because there has been no engagement of the public in the planning process.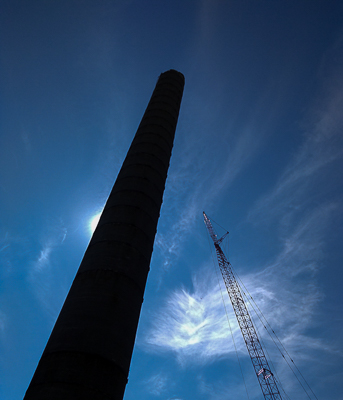 The proposed plant would use fossil fuel technology at a time when all our efforts should be devoted to reducing carbon emissions in order to counter the climate emergency. It would add a new smokestack. According to MMWEC, over the 30-year life of the plant it is projected to produce 212,550 tons of CO2. MMWEC is seeking authorization from the state is to permit borrowing $85 million, with a possible additional $85 million for possible future refinancing.
Has an environmental impact study been done? Have other strategies to reduce and manage peak demand been considered?
The power is to be sold to a number of municipal power companies including the Peabody Municipal Light Plant. These are power companies that are designed to serve a municipality, they are very independent of local government. In Peabody, they buy power from major utilities and distribute the power locally; Peabody has one backup/peak plant. Peak plants provide "capacity," that is to say, the ability to provide a given amount of power that is needed to meet short-lasting demand.
14 Municipal Utilities, representing over 330,000 people, are believed to have signed agreements with MMWEC to purchase energy capacity from this plant. Advocacy groups are organizing to question the need for the plant.
There are 40 municipal light plants in the Commonwealth that may be managed by commissioners and be independent of municipal government. The Department of Public Utilities' role in regulating MLPs is limited since MLP's rates are set by municipal officials. (More: https://www.mass.gov/info-details/massachusetts-municipally-owned-elect… )
Peak power plants can charge a very high rate and are used for brief periods to keep things running.  MMWEC claims that this plant will provide peak power at a fixed, lower cost than in the open market. However, that claim is based on assumptions about the future cost of power.
Will the cost of power increase or decrease in coming years? There is a risk involved in assuming that power will cost more or less; part of the job of mangers of local light plant is to manage that risk. That is difficult enough if the cost of power is the only variable to consider.
That is all very well in the traditional system, but today we must consider the  "externalities" including the impact on people who live near the plant, the impact on the local environment, and the addition to the climate crisis. Money is not the sole value we should consider.
Explore alternatives
Many of the municipalities are subscribing for small amounts of the total power, a lot would be used by Peabody. If each municipality were to seek other options to manage peak demand, the proposed plant could not be justified. All of these plants should evaluate other options for managing peak demand.
An independent study is needed
There are options for managing and responding to peak demand that should be explored. The state or the group planning to build this plant should hire an engineering group to do a comprehensive report, including environmental impact, environmental justice, cost to consumers, and pros and cons of alternatives.
Alternatives already exist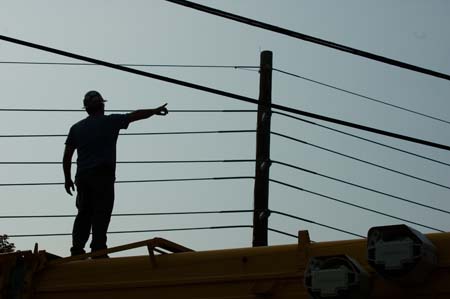 Load flexibility
Load flexibility consists of a collaboration between the customer and the provider of electricity. Peak demands can be significantly reduced and even eliminated by shifting the use of electricity to off-peak times. According to a recent study, conducted by the Brattle Group, Ryan Hledik and Ahmad Faruqui et al, The National Potential for Load Flexibility: Value and Market Potential Through 2030,
"...there is nearly 200 GW of cost-effective load flexibility potential in the U.S. by 2030. This load flexibility potential, which equates to 20% of estimated U.S. peak load in 2030, would more than triple the existing demand response (DR) capability and would be worth more than $15 billion annually in avoided system costs.

"The potential for load flexibility to facilitate the transition to a decarbonized power system is remarkable and currently overlooked," noted Ryan Hledik, a Brattle principal and the study's lead author. "Our study demonstrates the importance for utilities and regulators to look beyond conventional 'DR 1.0' options when analyzing new demand-side opportunities."

"The study concludes with three predictions for the evolution of load flexibility initiatives over the next decade:

Utility load flexibility programs will become smarter before they get bigger, by first modernizing existing demand response programs to tap into their underutilized potential.
Residential load flexibility additions will exceed those of larger commercial and industrial customers, despite having only a 30% share of the current demand response market.
New regulatory incentives will be a primary driver of growth in load flexibility, due to renewed industry-wide interest in regulatory models that encourage utilities to pursue demand-side initiatives rather than capital investment in infrastructure."---News
The Los Angeles study
Los Angeles has done a study, "LA100: The Los Angeles 100% Renewable Energy Study" that contains information and concepts that should be considered here.
"Demand response can be interpreted broadly as any modification of end-use electricity load operation for the purpose of providing grid services. NREL uses production cost and capacity expansion modeling to capture capacity, energy, and ancillary service value achieved through demand response, via a combination of electricity load reductions at peak times (capacity, contingency reserves, peak-load energy value), energy shifting, and load-following or regulation reserves."—LA100
ACEEE on energy efficiency
Different strategies can be applied to peak demands in summer and winter. A report by ACEEE points to a range of strategies that can meet a significant part of peak demand, avoiding the need for fossil fuel generation.
While utilities can meet winter peaks and other cold-weather demand constraints by building more power plants, energy efficiency measures have significant untapped potential to reduce winter demand, generally in ways that would be more cost effective, the report finds.
"Spikes in cold-weather power demand are a real concern if everything is running on electricity, but it's a solvable problem. We wouldn't want utilities to have to build new power plants that are often dirtier and more expensive, and if we get this right, they won't have to," said Mike Specian, lead author of the report and utilities program manager at ACEEE. "Utilities are ultimately responsible for delivering electricity reliably, and offering programs to encourage these upgrades in homes will help them do that."

The American Council for an Energy Efficient Economy (ACEEE) found that better-sealed homes, higher-performing heat pumps, and grid-interactive measures like water-heating systems that heat water at lower-demand times could reduce winter peak by up to 12%. Adding a more aggressive but plausible set of measures—including deep retrofits, smarter commercial HVAC controls, and energy information management systems—would reduce peak demand during such a vortex by up to 34%. These reductions reflect changes to residential loads and key commercial loads like space heating, water heating, ventilation, and lighting."—Report: Speciasn, M., C.l Cohn, and D. York. 2021. Demand-Side Solutions to Winter Peaks and Constraints. Washington, DC: ACEEE https://www.aceee.org/research-report/u2101
What are the alternatives that can provide the needed power when it is needed? Solar and wind are not always available at the time of need, although this energy can be stored with batteries.
Several options exist to reduce and meet peak demand, including:
load flexibility

grid interactive buildings, grid upgrades

battery

virtual battery (program to manage timing of energy use, shifting use to reduce peak demand, by using the thermal mass of the building and contents. "In building design, thermal mass is a property of the mass of a building which enables it to store heat, providing "inertia" against temperature fluctuations. It is sometimes known as the thermal flywheel effect."

fuel cell, hydrogen

geothermal

hydroelectric
Economics, engineering data and analysis needed
The proposed Peabody peaker plant is old technology using fossil fuel. As we move to a zero-carbon future, the plant will likely have to be shut down before the investment has been recovered, and if that happens, the customers would be stuck paying off the "stranded costs." The lifetime assumed in the financial investment of up to $170 million is projected to be at least 30 years.
Externalities: counters the Commonwealth goals of reducing emissions and becoming independent of fossil fuels for energy. Harm to the local environment, local residents. Air pollution. Climate crisis.
Safety: The plant will also incorporate a natural gas compressor; it would be within sight of the Danversport neighborhood that was destroyed by a chemical explosion in 2006. It is close to Peabody residential neighborhoods and to a dairy farm.
---
What is the size of peak demand that must be provided?

Why not use existing peak demand sources?

Compare cost of helping/paying customers to reduce peak demand vs. cost of creating peak demand generation or storage

Incentives for avoiding burning carbon? Regulations? Carbon tax?

Who benefits by NOT building the new plant? If some of the new concepts and methods were to be applied, everyone could save money, and we could reduce the threats to the local and global environment.

The Department of Public Utilities (DPU) held a public hearing to evaluate allowing MMWEC to borrow up to $170 million via Zoom in April. A diverse group of citizens from many parts of the Commonwealth, experts in public health, experts in peak power systems, and legislators testified. There was strong opposition to the plant based on the lack of transparency and the evident failure to consider new technology options or the state's new roadmap and legislation on mitigating the climate crisis. In the testimony by the proponents of the plant, none of the issues raised in the public session were addressed. The lifetime of the peaker plant was said to be "infinite."
---
Information sources
Project 2015A is a 55 megawatt capacity reliability resource to be constructed in Peabody, Massachusetts, on a site shared with the Peabody Municipal Light Plant.  FAQ
Mr. Ronald C. DeCurzio, Chief Executive Officer, Massachusetts Municipal Wholesale Electric Company, 327 Moody St, Ludlow, MA 01056
https://www.massclimateaction.org/stop_peabody_plant
For bibliography and links: Resources
---
An earlier version of this article was posted at http://photoluminations.com/drupal/peaker and in turn was based on Halberstadt's testimony to the DPU on April 26, 2021 held to consider the petition of MMWEC for approval to borrow up to $180 million for the peaker plant, project 2015A.