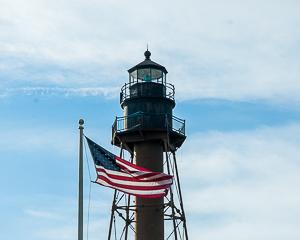 In our North Shore and Cape Ann communities, we face an invisible threat of air pollution that causes disease and premature death while it despoils our environment and contributes to global warming. Every breath brings the potential for disease, death, and disaster.
Like sailors approaching a hidden danger, we need a lighthouse, and a warning system for air pollution so that we can mitigate the harm to ourselves, our natural environment, and the climate and so that we can act together to reduce air pollution by stopping it at the source.
Adrienne Allen, MD, MPH is the Medical Director of quality, safety, and sustainability at North Shore Physicians Group (MGH); she has treated patients on the North Shore for over a decade. Allen said,
I have patients that are dying today and are sick today because of air quality and because of air pollution…Even short-term exposure to particulate matter, the type that comes from power plants, increases premature death, particularly for patients over 65 years old. They say, 'I am short of breath, I can't walk.'
I am acutely aware of the impact of air pollution because I have conditions that slow me down during bad air pollution days. As a founding member of Breathe Clean North Shore, we have worked together with Community Action Works, Slingshot, and Mass Climate Action Network (MCAN) against the new Peabody peaker plant a mile from where I live which will burn fossil gas and oil, and generate, in addition to electricity, air pollution, disease, and death; and contribute to global warming.
In the Commonwealth there are two main sources of air pollution. Thirty percent comes from stationary sources including electricity-generating plants, other industrial facilities, and buildings that burn fossil fuel. Traffic-related air pollution from vehicles, trains, and airplanes is responsible for about 70% of our pollution.
Salem Harbor Power Development (formerly Footprint Power) operates a 692 MW gas-fired peaker plant. The new Peabody peaker will add 55MW to the output of 2 older plants, all at the Waters River facility of the Peabody Municipal Light Plant. The idea that peaker plants only produce a little pollution or less than some other plant and thus are not harmful is patently false. All air pollution is harmful, there is no "safe" amount.
Air pollution, disease, and death
Traffic-related air pollution
An international team of experts at the Health Effects Institute studied air pollution concentrations and pollution-related health effects at the community level. According to their analysis, traffic-related air pollution causes several adverse health results: low birth weight; in children: asthma onset, active asthma, acute lower respiratory infection; in adults: ischemic heart disease events and diabetes; and mortality from all-causes; circulatory; respiratory; lung cancer; and ischemic heart disease.—Health Effects Institute.
The disease burden from air pollution comes from P2.5 and nitrogen dioxide.
Ambient PM2.5 comes from vehicle emissions, coal-burning power plants, industrial emissions, and other sources... Nitrogen dioxide comes from many of these same sources, with vehicle traffic being a main source of NO2 in urban areas. Research suggests NO2 exposure is not only linked to aggravation of asthma symptoms but is also linked to the development of asthma in children.—State of Global Air
Sally Pusede, Ph.D., and others have used satellite and other observations to determine how air quality varies at the level of neighborhoods. They have mapped satellite records of NO2 against census tracts in many cities, confirming that Black, Hispanic and Asian communities in the lowest socioeconomic status (SES) tracts are exposed to high levels of NO2.—American Chemical Society
Under the leadership of Philip J. Landrigan of the Global Observatory on Pollution and Health at Boston College, another international group of experts developed estimates of the burden of disease attributable to air pollution in Massachusetts and created maps showing pollution-caused disease and death. They hope to mobilize citizens to eliminate the use of fossil fuels and thus reduce air pollution and point to actions that citizens can take.
Airborne fine particulate matter (PM2.5) air pollution is linked to multiple non-communicable diseases. In adults, these include cardiovascular disease, stroke, chronic obstructive pulmonary disorder, lung cancer, and diabetes. In infants and children, air pollution increases the risk of premature birth, low birthweight stillbirth, asthma, and impaired lung development. Prematurity and low birth weight are risk factors for cardiovascular disease, kidney disease, hypertension, and diabetes in adult life. Impaired lung growth increases the risk for chronic respiratory disease...Emerging evidence indicates that air pollution is associated with neurologic dysfunction in both adults and children."—Landrigan et al
Particles that are 2.5 micrometers or smaller (PM2.5) enter our lungs and blood and cause disease and premature death. A human hair is 50-70 micrometers, and the alveoli or air sacs in our lungs where we absorb oxygen and expel carbon dioxide are 200-500 micrometers. Thus PM2.5 particles can easily enter our bodies and do harm.
Pollution and health on the North Shore
Bringing this down to each locality confronts us with the severe danger we face every day. In the absence of a local network of air quality monitors, each source must rely on their interpretation of information to estimate the air quality. The annual level of PM 2.5 in Peabody is 6.57 micrometers per cubic meter, based on a small number of official sensors, according to Landrigan et al.
Breezometer integrates many inputs to measure air quality. They estimate Peabody's monthly exposure at 9 micrometers per cubic meter of PM2.5; that is ~22 times greater than the annual exposure guidelines from the World Health Organization (WHO) of 5 micrometers per cubic meter. Nearby towns on the North Shore and Cape Ann have similar monthly pollution levels in micrometers per cubic meter of PM2.5. Revere, 11; Lynn, 12; Swampscott, 8; Marblehead, 6; Salem, 12; Beverly, 10; Danvers, 11; Middleton, 12; Ipswich, 9; Topsfield, 9; Essex, 10; Rockport, 10; Gloucester, 10.
Networks of air quality monitors report real-time data over the internet. To date, these networks have not covered more than a sliver of our area with direct local measurements. Chelsea has 8 monitors; Saugus, 1; Lynn, 3; Swampscott, 2; Ipswich, 1; and Marblehead, 1.
We must have a network of monitors throughout the North Shore so that we have accurate and reliable information in real-time. Susan and Ron Smoller, on behalf of Breathe Clean North Shore, have collaborated with Sharon Cameron, the Director of the Peabody Health Department to obtain monitors and the City will install them in several parts of Peabody.
This real-time data will be our lighthouse that can be viewed in the context of studies of air pollution, pollution sources, and data on disease and death.
Peabody has the 27th highest rate of death from all causes among 351 municipalities in the Commonwealth, at 0.66/1000. The Peabody rate per thousand for heart disease deaths is 3.77; for cancer deaths is 4.33; for strokes death, 0.38; and for COPD, 0.75. Danvers is the 46th for the all-causes death rate.—Mass Clean Air
Air pollution and its health effects are not equitably distributed. Multiple studies document that poor, minority, and marginalized communities bear a disproportionately heavy burden of air pollution exposure and pollution-related disease. In the COVID-19 pandemic, minority communities exposed to high levels of particulate pollution experienced disproportionately increased rates of hospitalization and death." —Landrigan et al
Particulate pollution is sure to be found in many parts of the City of Peabody, including the environmental justice (EJ) areas near the proposed peaker plant as well as in other nearby communities. Environmental justice areas are defined by challenges including income, race, ethnicity, and language that often correlate with high levels of pollution and other environmental problems. In Peabody, there is a growing population that might live in those areas: Hispanic or Latino: 11.6%; 2 or more races: 3.5%; Black or African American: 3.5%; Foreign born, 2016-2020: 15.6%; Persons in poverty: 7.7%. Altogether, these populations comprise up to 26% of Peabody. Population data for Peabody, US Census 2020
It is puzzling that Peabody has such a high rate of disease and death due to pollution compared to the nearby municipalities. We would also expect to see higher levels for the several diseases impacted by air pollution, including for children. The data we have at the level of the municipality can hide areas of high rates of illness and premature death in neighborhoods, despite the reported high levels of air pollution in these communities. Mass Climate Action Network (MCAN) is currently working to understand these issues. The Commonwealth has so far failed to do intensive health and environmental impact studies in the environmental justice areas near the site of the peaker plants in Peabody.
---
We are all at risk.
Given the high level of PM2.5 pollution and pollution-related deaths, all residents of Peabody and the North Shore should be concerned about the hidden threats to their health. It is up to us to act now and protect our families while we organize to demand action by the Commonwealth and our civic leaders. Mass Clean Air of the Boston College Global Observatory proposes ways for people to act locally. We can reduce the impact of generating electricity by transitioning to clean renewable sources of power. We can reduce the impact of traffic pollution by switching to more efficient electric vehicles. We must demand clean, efficient, reliable sources of renewable power and electrification of vehicles and homes. Let's do it, together!
---
Jerry Halberstadt lives in Peabody, is a member of Breathe Clean North Shore, Mass Climate Action Network (MCAN), Elders Climate Action, and Coordinator of CleanPowerCoalition.org
email: info (at) CleanPowerCoalition.org Twitter @coordinatingnow 
---
HealthResources  Resource material for this article 
This article updated on September 9 to note American Chemical Society report announcing the mapping of NO2 by satellite data against census tracts.
---
Column based on this article published as "Stop the North Shore Pollution Threat," in The Salem News on September 5, 2022. 
---