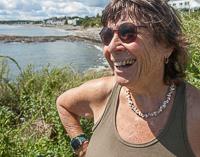 Contributed by Lynn Nadeau
---
An Open Letter to Governor Baker and Secretary Theoharides
Honorable Governor Charlie Baker, Massachusetts State House, 24 Beacon St., Office of the Governor, Room 280, Boston, MA 02133
Kathleen A. Theoharides, Secretary, Executive Office of Energy and Environmental Affairs, 100 Cambridge Street, Suite 900, Boston, MA 02114
Greetings,
I am concerned that the Marblehead Municipal Light Board (MMLP) bought into the Peabody peaker project 2015A, along with 13 other MLPs on the advice of Massachusetts Municipal Wholesale Electric Company (MMWEC) . But they acted years ago in 2017—before the Next Generation Roadmap (Acts 2021 Chapter 8) was passed—before the IPCC raised the warning on our overuse of fossil fuels—and before a full MEPA Environmental Impact Study was made. 
Please pick up that old docket and look at it in the light of today's reality!
No one in the public attended that meeting in 2017 at which the Marblehead Municipal Light Board voted to buy into the project. The current Light Board, many of whom were Commissioners in 2017, have dug their heels in without re-thinking their participation.
Sustainable Marblehead presented an alternative scenario to the Board illustrating the use of distributed and local battery storage—to the deaf ears of the general manager and the MMLP.
Since then the voters have replaced two Board Members with forward-thinking people who will challenge the old decision and work for policy that will reduce peak usage (through variable pricing and load shedding) and thus reduce the need for capacity that would be provided by Project 2015A.
We know that 2 of the 14 Light Departments participating in the Project 2015A seek to sell their shares—so far unsuccessfully. 
The Massachusetts Environmental Policy Act (MEPA) requires that state agencies study the environmental consequences of their actions, including permitting and financial assistance. It also requires them to take all feasible measures to avoid, minimize, and mitigate damage to the environment.
Please, in your wisdom and sophistication, open the case again and do a thorough MEPA review in the light of current Massachusetts Laws and the state of the world. 
Sincerely,
Lynn Nadeau, Marblehead
---
Lynn Nadeau is a cofounder of HealthLink—the local organization that worked to close the Salem coal burning power plant. She is currently on the boards of Sustainable Marblehead, the Clifton Improvement Association (CIA) , the Jewish Journal, and is a member of the Marblehead Democratic town committee. She swims in the sea daily in summer.