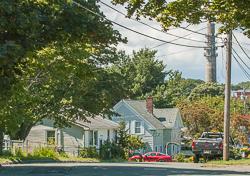 What will we do for our grandchildren?
On a bright November Saturday, advocates for clean energy from across Massachusetts joined Peabody residents in the "Peabody Peaker Push" at the courthouse in Peabody Square to advocate against the proposed  gas- and oil-fired electric generator ("Project 2015A").
Among them was Peabody resident Hunter, a  young man of 8 years,  holding a sign that said, "Non Renewable Energy is Peak Stupidity."
The site of the project, the Waters River Facility of the Peabody Municipal Light Plant, is about a mile away from Peabody Square. Protesters objected to the use of fossil fuels when sustainable, renewable solutions using wind, solar, and battery storage are less costly and more reliable, and free of the environmental and health hazards of fossil fuel.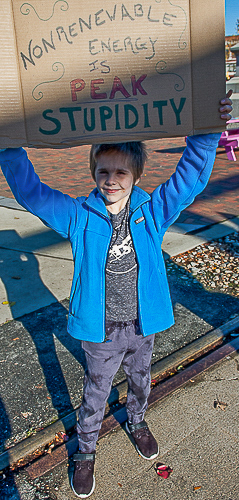 Burning gas, oil, or coal produces pollution which harms the health of nearby residents, despoils the natural resources such as a tidal estuary and wetlands,  and adds greenhouse gas emissions of carbon dioxide, methane, and nitrous oxide to the atmosphere, thus increasing the warming of the planet. The peaker plant  would add up to 11% more greenhouse gas emissions in Peabody.
We should not be indifferent to the impacts of our actions on others, especially when they have not had a voice in the decision.
Citizens, physicians, public health experts, environmental advocates and scientists, and legislators have been advocating for reviews and evaluations of the impacts of the peaker plant consistent with the Climate Roadmap law.
Representative Sally Kerans and Senator Joan Lovely were among the enthusiastic demonstrators at the Danversport Bridge connecting Peabody and Danvers, a short distance from the peaker plant location marked by a smokestack in the distance.  
"In November 2021, I joined Representative Sally Kerans and many North Shore residents for the 'Peabody Peaker Push,'" said Senator Joan B. Lovely (D-Salem). "It was a great opportunity to see so many citizens come together to express their dire concern about the proposed plant. We need to continue to fight for clean air with the impact this plant would have on our environment and our health. I look forward to continuing our work together to move expeditiously towards our Commonwealth's net zero goals."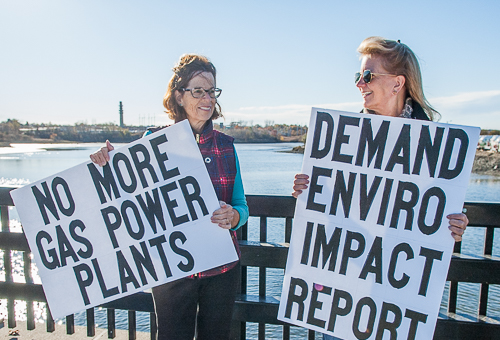 In a letter to Governor Baker on July 11, 2021, the Peabody Department of Health urged the need for a comprehensive public health and environmental review of the peaker plant.  On July 23, 2021, Representative Sally P. Kerans wrote to Kathleen Theoharides, Secretary of Energy and Environmental Affairs, asking her
"to ensure that at minimum, both an Environmental Impact Report and a Comprehensive Health Impact Assessment are done."
Representative Lori Erlich wrote on July 15, 2021 to Matthew Nelson, the Chair of  the Department of Public Utilities to urge following the mandates of the Climate Roadmap to
"...ensure that Project 2015A is capable of meeting the Municipal Light Plant Greenhouse Gas Emissions Standards (GGES) obligations...and does not negatively impact the environment or air quality of newly accounted for environmental justice communities within the project area."
The administration nevertheless failed to act in line with the Climate Roadmap.
People in each of the 14 communities whose municipal light plants are partners in the project object to it. Mary Jane Else, a resident of S. Hadley, one of the participating municipalities, said 
"I don't feel comfortable with my "cheap" electricity coming at the expense of people in other communities. I feel awful thinking of how coming generations of people will suffer because we ruined the planet they'll inherit."  
In Hull, a vulnerable community on a low—lying peninsula, homeowners are already  dealing with frequent tidal flooding and moving towards renewable energy. 
HealthLink activist Lynn Nadeau of Marblehead said,
"The spreadsheet on fossil fuel shows a heavy cost to public health and comfort and a big profit for the gas and coal industry executives and investors." She urged, "We must not continue letting them get away with the price we pay for their avarice. The Peabody plant should not be built!"
On learning about the plant, to be located in the existing Waters River Station of the Peabody Municipal Light Plant, people living within sight of an old smokestack adjacent to the plant said,
"They are doing what? A new gas and oil generator when we are faced with a climate crisis? Don't we have new laws that should require studies of the health, environmental, and climate impacts of burning gas?"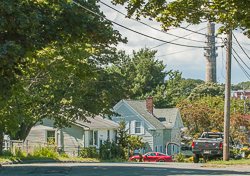 Before it is built, the $85 million Peabody peaker is doomed to become  useless. And then the ratepayers in the 14 municipalities who were secretly obligated to guarantee the investment will be saddled with the cost of the "stranded asset."
 I wrote to Hunter,  the youngest demonstrator:
"Hunter. I admire and respect you for coming to the demonstration. When I see you, I see my grandchildren. Your generation will pay the price of our failure to act. It is our responsibility as adults to care for you and all the grandchildren. Thank you for coming to the demonstration to remind us of our job.  Although it may seem impossible to win this struggle, we won't stop and we won't give up."
In addition to the need for a through review of the environmental impact and health concerns as well as greenhouse gas emissions, we should step back and evaluate all the options for addressing the need for capacity to meet peak power demands. Going forward, we need to organize all our communities to realize the goal of sustainable, renewable energy and eliminate all use of fossil power.
---
Cosigners
Senator Joan B. Lovely, 2nd Essex District: Beverly, Danvers, Peabody, Salem, and Topsfield
Representative Sally Kerans, 13th Essex District, Danvers, Peabody, and Middleton
S.M. "Sudi" Smoller,  Peabody, Breathe Clean North Shore
Ron Smoller,  Peabody, Breathe Clean North Shore
Tracy Valletti, Peabody, Breathe Clean North Shore
Barbara Treacy, Peabody, Breathe Clean North Shore
Judith Black, Marblehead, 350 North Shore Node
Lynn Nadeau, Marblehead, HealthLink
Megan Sweeney, Marblehead, for PowerUP 01945
Lori Bermani, Salem
Lilly Worthley, Swampscott, Breathe Clean North Shore, Sunrise Movement
Judeth Van Hamm, Hull, 350Mass South Shore, Sustainable South Shore
Éva Borsody Das, Hull, 350MA South Shore Node
Mary Jane Else, S. Hadley, ratepayer
Arnold Epstein, Stow, Elders Climate Action Massachusetts chapter
Carolyn Britt, Ipswich Climate Resiliency Committee
Julie Smith-Galvin, Wakefield, Town Councilor
Grace Breckenbridge, Williamstown
Sarah Dooling, Boston, Executive Director, Massachusetts Climate Action Network; for MCAN
Michael Bradley Siegel, Visiting Professor, Tufts University School of Medicine
Nathan Phillips, Professor, Department of Earth and Environment, Boston University
Kolya Lynne Smith, Boston, MA
David Schreiber, Arlington, JCAN, Greenvest
Jerry Halberstadt lives in Peabody. He writes and publishes at CleanPowerCoalition.org  and is a member of BreatheClean North Shore  @coordinatingnow
---
Additional cosigners are welcome, including legislators, individual citizens, and advocacy groups.  Please reach out to Coordinator "at"  CleanPowerCoalition.org to join this effort.
---