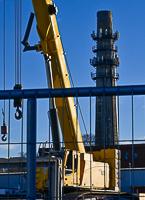 Carbon dioxide—the fizzy bubbles in carbonated drinks—is safe. Or is it?
The hearing today is focused on the obligation of the Massachusetts Department of Environmental Protection to evaluate how to monitor the amount of CO2 pollution that the Peabody peaker may emit.
My remarks will focus on the validity of the assumptions underlying the monitoring method and on the moral validity of the underlying assumptions.