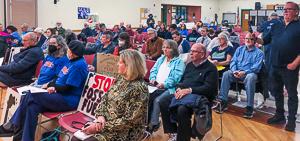 Photo courtesy of Slingshot
This is the text of the remarks made by Sharon Cameron at the hearing held by The Massachusetts Department of Environmental Protection at the Torigian Senior Center in Peabody on December 7 on the plan of the Massachusetts Municipal Wholesale Company (MMWEC) to control the emission of carbon dioxide from the Peabody peaker, now under construction at the Waters River Facility of the Peabody Municipal Light Plant.
---
My name is Sharon Cameron and I'm the Director of Public Health for the City of Peabody. Thank you for the opportunity to provide comment today on behalf of the Peabody Board of Health.
I understand that the intent of today's hearing is to limit comment to the CO2 Budget Emissions Control Plan, and that this hearing is part of DEP's Public Involvement Plan as part of its initiative to "enhance transparency in environmental permitting." It is unclear to the Board of Health whether an effective Public Involvement Plan was implemented prior to issuing the Air Quality Plan Approval for this project in September 2020.
At this fall's Massachusetts Health Officer's Conference, I had the opportunity to hear Commissioner Suuburg discuss the initiatives of MassDEP to promote environmental justice and specifically, to address the cumulative impact of environmental stressors on environmental justice populations.
There are many well-documented health concerns associated with fossil fuel-burning power plants. Emissions such as sulfur dioxide, nitrogen dioxide, carbon monoxide, and other hazardous pollutants can contribute to cancer risk, birth defects, and harm to the nervous system and brain. Emissions of particulates increase risk of heart disease, lung cancer, COPD, and asthma. Emission contributions from power plants increase levels of ozone and drive climate change, which can make breathing more difficult, increase allergens and the risk of fungal diseases, and affect health through the disruption of critical infrastructure such as electrical and water and sewer systems.
Although MassDEP has concluded that pollution emitted by the proposed plant will not exceed Ambient Air Quality Standards, the plant has the potential to produce an additional 12 tons per year of small particulates; 8.3 tons per year of carbon monoxide; 0.6 tons per year of sulfur dioxide; 1.8 tons per year of ozone; 6.3 tons per year of nitrogen oxides; 0.00025 tons per year of lead; and 50,779 tons per year of carbon dioxide equivalents, according to the Draft Air Quality Plan Approval, MassDEP, August 2020.
A health assessment of the neighborhoods within 2 km of this project conducted by doctoral student Kathryn Rodgers of the BU School of Public Health concluded "On average, census tracts in the focus area have significantly higher prevalence of cancer, chronic kidney disease, chronic obstructive pulmonary disease, coronary heart disease, and stroke, adjusting for prevalence of smoking, lack of health insurance, EJ status, and total population."
The state law signed in March 2021, An Act Creating a Next Generation Roadmap for Massachusetts Climate Policy, requires an Environmental Impact Report for all projects that impact air quality within one mile of an Environmental Justice Neighborhood. The City of Peabody has 41.5% of its population living in an Environmental Justice block. There are several EJ neighborhoods within 1 mile of this proposed project, affecting 4 communities.
The Peabody Board of Health has submitted two written requests to the DEP and to the Governor's Office requesting that an Environmental Impact Report and a comprehensive health impact assessment be conducted to evaluate this project's risks and benefits, and to understand the potential impact of the project on the Environmental Justice neighborhoods across 4 communities who live in proximity to this project. There has been no response to these requests.
The Peabody Board of Health would like to once again request that MMWEC be required to conduct a full Environmental Impact Report and a comprehensive health impact assessment. We believe that these reports are absolutely necessary in order for decision makers and our residents to understand the likely impact of this project on our environment and on our vulnerable and disproportionately-impacted residents. If the project proceeds, the assessment will also be necessary to understand the type of monitoring and mitigation strategies that will best protect our residents, as well as what mechanisms will be implemented to report data back to our community in a meaningful way, and what processes will be put into place to ensure that health and environmental concerns of residents can be addressed throughout the life of the project.
The Environmental Justice Policy of the state's Executive Office of Energy and Environmental Affairs calls for "meaningful involvement" of affected persons and communities, as well as the "equitable distribution of energy and environmental benefits and burdens." We understand the benefits of this proposed plant in terms of ensuring adequate energy capacity in the region, with stable and known costs. However, we believe that it is impossible to understand the potential burdens of this project, particularly on vulnerable and disproportionately-impacted residents, without a full Environmental Impact Report and comprehensive health impact assessment.
Thank you for your concern for the health, safety, and well-being of our community. 
---
RELATED
Sharon Cameron, Peabody Director of Public Health, Seeks Environmental and Health Reports  
Smoller Demands Response To All The Pollution Impacting All The Communities 
Bejjani Urges Comprehensive Monitoring, Protection of Health, Closing Peakers 
---