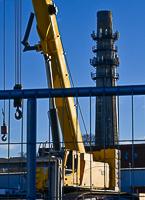 Remarks prepared for delivery at the hearing to be held by The Massachusetts Department of Environmental Protection at the Torigian Senior Center in Peabody on December 7 on the plan of the Massachusetts Municipal Wholesale Company (MMWEC) to control the emission of carbon dioxide from the Peabody peaker, now under construction at the Waters River Facility of the Peabody Municipal Light Plant.
Pollution Harms Our Health
Carbon dioxide—the fizzy bubbles in carbonated drinks—is safe. Or is it?
The hearing today is focused on the obligation of the Massachusetts Department of Environmental Protection to evaluate how to monitor the amount of CO2 pollution that the Peabody peaker may emit.
My remarks will focus on the validity of the assumptions underlying the monitoring method and on the moral validity of the underlying assumptions.
There are several available methods to measure CO2 emissions. The method proposed assumes that the amount of electricity generated is a valid measure of the CO2. The validity of that measure depends on a chain of assumptions about the amount of carbon in the fuel, the efficiency of the generator in burning that fuel, and the relationship of the electrical output to the carbon emissions. How can the DEP know the actual emission levels? They will be able to take spot measurements of gases in the chimney during operation. The plant is projected to create 50,779 tons of CO2 per year, and up to 98,687 lb/hr.
MMWEC must purchase "allowances" from the DEP to match the amount of CO2 emitted, this is evidently a mechanism to control the amount of emissions but the CO2 nevertheless goes into the atmosphere. And it will come around to bite us.
Should the evaluation process include the ambient level of CO2 in the air when the generator is not operating? In the Plan Approval, there is no data about ambient CO2.
Although we don't have current measurements of ambient CO2, we now have the ability to measure another pollutant that also results from burning fossil fuels, PM2.5. PM2.5 particulates are smaller than 2.5 micrometers, in other words, very very small. We can use the new levels of PM2.5 to see that the prior estimates in 2019 of that pollutant were well below the current measured levels, levels that now pose immediate health hazards. The estimated annual ambient background level of PM2.5 was 5.5 micrograms per cubic meter, according to the MMWEC plan for the peaker plant. The daily 24-hour level with the plant in operation was predicted to be 21.3. Today we observe levels from 50 to 100 micrograms per cubic meter. 
Because PM2.5 emissions are directly linked to CO2 emissions, current ambient levels of CO2 are also high.
We create harmful pollution including CO2 and PM2.5 when we burn fossil fuels like gasoline, oil, or natural gas for energy, transportation, or heating. The level of pollution that we observe today is higher than it was estimated to be just 3 years ago.
If that is true, let us consider the morality of adding any additional CO2 and other dangerous pollutants to our atmosphere. When we generate power, are we harming ourselves and our environment?
Our health is at the mercy of fossil fuels, according to a report published by The Lancet, a journal focused on applying science to improve health. We don't usually think of carbon dioxide as a danger to our health. Far from being a harmless gas, it is a greenhouse gas that contributes to warming the climate.
Carbon dioxide is produced when we burn fossil fuel. When we burn fossil fuel we create significant threats to our health in the present as well as in the future.
Philip J Landrigan and David Bellinger report that, as of 2019, "Air pollution is responsible for premature deaths in every Massachusetts city and town." Landrigan is a pediatrician and epidemiologist, director of the Boston College Program for Global Public Health and the Common Good, and an internationally recognized expert on the relationship between air pollution and disease. He wrote,
"PM2.5 spikes such as you are seeing in Peabody are associated with several major short-term health problems in the 24-48 hours following the spike: increased heart attacks, increased episodes of cardiac arrhythmia, and increased episodes of acute asthma in both children and adults."—Philip J. Landrigan, personal communication
Kathryn Rodgers has reported a high rate of pollution-caused disease in the area near the site of the existing peaker plants.
We are today witness to a warming climate that already threatens health, life, and property. Heat waves have serious impacts on the very young and elderly already, causing an increase in heat-related deaths. Climate change leads to an increased spread of infectious disease, the risk of new diseases and epidemics, and puts increased pressure on health systems.
Given the reality of ongoing climate warming and the resulting threats to health, can we as a society justify the continued burning of fossil fuel? In Peabody and nearby North Shore towns, given the demonstrated high levels of disease and death related to pollution, how can we continue our old actions?
The Lancet authors offer an alternative.
"A health-centred response would see countries promptly shifting away from fossil fuels, reducing their dependence on fragile international oil and gas markets, and accelerating a just transition to clean energy sources. A health-centred response would reduce the likelihood of the most catastrophic climate change impacts, while improving energy security, creating an opportunity for economic recovery, and offering immediate health benefits."
In Peabody and the North Shore, we will educate and empower people around the connection between pollution and disease as the start of a clean air revolution.
---
References
Bryant, R. , Bundy, M. and Zong, R. (2014), Comparing Methods for Determining Carbon Dioxide Emissions from Stationary Sources, 38th Stationary Source Sampling and Analysis for Air Pollutants Conference, Point Clear, AL (Accessed December 5, 2022)
Department of Environmental Protection, DRAFT AIR QUALITY PLAN APPROVAL , Massachusetts Municipal Wholesale Electric Company August 2020 – Draft Plan Approval Transmittal No. X273353 Approval No. NE-17-001 , AUGUST 2020
Department of Environmental Protection, Proposed Carbon Dioxide (CO2) Budget Trading Program Emission Control (ECP) Plan Approval issued pursuant to Regulation 310 CMR 7.70, the Massachusetts CO2 Budget Trading Program
Enos, Caroline, Criticism grows on new Peabody peaker plan, The Salem News, December 8, 2022.
Halberstadt, Jerry, "Stop Pollution for Our Health: Air pollution is a toxic cloud over Peabody and the North Shore," presentation to the Peabody Board of Health on October 20, 2022.
Heft-Neal, S., Burney, J., Bendavid, E. et al. Robust relationship between air quality and infant mortality in Africa. Nature 559, 254–258 (2018). 
Kennedy, Sarah/ChavoBart, Reducing fossil fuel use will help make life easier for many people with asthma, November 2, 2022, Yale Climate Connections
Kirk, Kirin, Burning fossil fuels heats the climate. It also harms public health, March 13, 2020, Yale Climate Connections
Landrigan, Philip J. and David Bellinger, "Air pollution is responsible for premature deaths in every Massachusetts city and town," BostonGlobe.com, August 8, 2022
Landrigan, P.J., Fisher, S., Kenny, M.E., et al. A replicable strategy for mapping air pollution's community-level health impacts and catalyzing prevention. Environ Health 21,70 (2022).
Luca, Dustin, Salem City Council resolution opposing Peabody peaker plant, The Salem News, October 26, 2022.
Mass Clean Air, Health Effect of Air Pollution in your Town (Map)
Mass Clean Air, Spreadsheet of town data
Odom, Caitlin and Lauren Shwisberg, The Hidden Health Costs of Gas-Fired Power Plants, RMI, October 18, 2022
Rodgers, Kathryn, MPH, Pollution, People, and Powerplants: Health Burdens in Peabody, MA, Massachusetts Climate Action Network, November 1, 2022
Romanello, Marina et al, The 2022 report of the Lancet Countdown on health and climate change: health at the mercy of fossil fuels, Lancet 2022; 400: 1619–54 
Thayer, Katherine L., et al., An exploratory analysis of sociodemographic characteristics with ultrafine particle concentrations in Boston, MA, PLOS, March 30, 2022
Wasser, Miriam, Report: The proposed Peabody power plant will exacerbate existing health inequalities, WBUR, November 4, 2022
Wasser, Miriam, Proposed Peabody 'peaker' plant needs full environmental and health impact reviews, North Shore residents say, WBUR, December 8, 2022 
---
RELATED
Sharon Cameron, Peabody Director of Public Health, Seeks Environmental and Health Reports  
Smoller Demands Response To All The Pollution Impacting All The Communities 
Bejjani Urges Comprehensive Monitoring, Protection of Health, Closing Peakers 
---