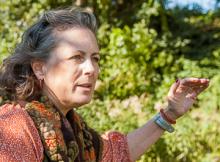 Guest post by Tracy Valletti, Candidate for Commissioner of the Peabody Municipal Light Plant.
---
Nothing can quite prepare you for the experience of running for elected office.
When I first started this campaign, I did so because I wanted to stand up against the proposed gas plant, known as the "peaker" plant. I didn't know if people were aware of the project, or if I could even win. All I knew was that the proposal would harm our communities, and I couldn't sit by and do nothing.